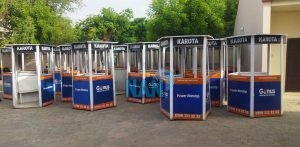 By Bosede Olufunmi
Genus Inverters Company has donated 30 traffic control shelters to Kano State Road and Traffic Agency (KAROTA) to enhance safety on the road.
Representative of the company, Mr Adeyemi Olanrewaju-Ismail handed over the traffic shelters to the agency in Kano on Tuesday.
He reiterated commitment of the company to work with relevant government agencies to better the working conditions of their personnel.
According to him, government at all levels are overstretched due to huge demands, and urged well meaning Nigerians to support government to make life meaningful to its citizens.
We discovered that the agency is committed to ensuring traffic safety and sanity, and to also relieve Kano state government of some burdens, he said.
The company, he said, committed to work with relevant government parastatals as part of its Corporate Social Responsibility (CSR) to the state.
He said the donation was necessitated by the working condition of the traffic warders, who stand under the sun to do their work.
Responding the Managing Director of the Agency, Baffa Babba-Danagundi lauded the gesture, adding that it was worthy of commendation.
He urged other organisations to assist government to fast track sustainable social and economic development of the state.
It is always amazing to see our personnel identified with and attract companies to expend its resources on it, he said.
He pledged that the traffic stands would be distributed to various streets in the metropolis.
While commending the personnel for a job well done, Baffa-Agundi tasked them to ensure effective utilisation of the traffic stands. (NAN)(www.nannews.ng)
=============
Edited by Remi Koleoso/Rabiu Sani-Ali
Source: NAN News