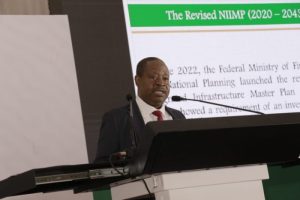 Mr Joe Ohiani, the Director-General of the Infrastructure Concession Regulator Commission (ICRC)
By Emmanuel Oloniruha
Mr Joe Ohiani, the Director-General of the Infrastructure Concession Regulator Commission (ICRC) has urged state governors to establish Public Private Partnership (PPP) framework to boost infrastructure development their states.
Ohiani, gave the advice at the ongoing induction programme for newly elected and returning governors organised by the Nigeria Governors Forum (NGF) in Abuja .
Discussing as a panelist in one of the sessions at the event, Ohiani, advised governors to embrace PPP as alternative vehicle to deliver services to the electorates and also to bridge infrastructural gaps in their states.
He said that presently, only 25 state of the federation had approved the legal framework for PPP in their states.
He said that PPP was not only imperative to close infrastructure gaps but also important for job creation and to boost economic growth both at the state and federal level.
PPP is a win-win for all the parties. A win for the government in provision of the projects and facilities, a win for the investor who has invested in the project and a win for his citizen who will use the project.
At federal government, we are happy to say that under this administration between 2015 to current period about 75 projects has been consummated under President Muhammadu Buhari in Nigeria.
The net worth is 2.1 trillion Naira investments. That goes to show that PPP is an alternative source of investment at federal government and sub national government.
They dont need to have deep pocket in the face of dwelling revenue as regards to provide all the facilities that is required.
On that note, we encourage PPP as a vehicle for delivery of service for our people, he advised.
Ohiani said that as a governor coming into office with four years within which to deliver on his mandates, the adoption of PPP would be of great benefits to achieve that.
Ohiani said that by virtue of Section 11 of the ICRC Act, once a governor structure a PPP project in line with applicable law, no successive government would terminate such PPP arrangements without following due process
He said all that was needed to be done was to identify priority infrastructural projects that could be done within the four years, conduct feasibility study and invest on well structured PPP projects.
He said that there was also needs to allocate risk, carryout proper consultation, evaluate and monitor a project through the duration of the project.
Also discussing as a panelist at the session, the Managing Director of the Nigeria Export Processing Zones Authority (NEPZA), Prof. Adesoji Adesugba enjoined governors yet to embrace and support free trade zone scheme to do so in order to attract investments into their states to generate employment opportunities.
Only 22 states in Nigeria subscribe to the free trade zone scheme. We need to do everything and act fast as if it is an emergency to create job for our youth.
I am also using this opportunity to ask those states that have not keyed into this scheme to please sign the approval. It is a very good way to attack investment into your state. It took Ekiti State just four weeks to get Mr President assent.
It is very interesting to know that of the 46 free trade zones that Lagos has 18, they understand the concept very well. No wonder so many investors are going there.
You can develop your free zones just as it is done in Ghana, Cte dIvoire. You can develop small free trade zone that can attract investors into your state.
Adesugba said that Lagos, Ogun, Borno and Delta are already having creative concepts with the scheme.
About 450million dollars is going to Ogun State very soon. So open the door of your state for the scheme.
He said Nigeria needed to do more in the area of free trade zone scheme to move fast just like China and Dubai.
China has 5,000 enterprises in free zones which transacted about billion shares.
In Nigeria, we are trying, we set up our free zones scheme before China in 1992
Right now the total investment in free trade zone is about 30 billion dollars. That means we still have a lot to do, (NAN)(www.nannews.ng)
=========
Edited by Sadiya Hamza
Source: NAN News