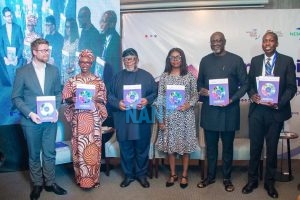 L-R: Eivind Fjeldstad, Business Counsellor, Royal Norwegian Embassy in Abuja; Nabila Aguele, Special Adviser to Nigerias Minister of Finance, Budget and National Planning; Laoye Jaiyeola, CEO, Nigerian Economic Summit Group (NESG); Osasuyi Dirisu, Executive Director, Policy Innovation Centre (PIC); Michael Ojo, Country Director, Global Alliance for Nutrition (GAIN Nigeria) and Oluwatobiloba Moody, Director, World Intellectual Property Organization (WIPO) at the launch of the PICs Purple Book in AbujaTuesday
By Justina Auta
The Policy Innovation Centre (PIC) of the Nigerian Economic Summit Group (NESG), has unveiled its Purple Book, to promote gender equality and inclusion in Nigeria.
The book, tagged From Voices to Action, is a curation of policy and programme recommendations from the PICs maiden Gender and Inclusion Summit (GS-22) held in Abuja in 2022.
Mr Laoye Jaiyeola, CEO, NESG, said the recommendations in the book aligned with best practices for delivering gender programmes to facilitate inclusion and diversity while connecting dots for an equitable society.
This book serves as a reference document that helps people reflect on the conversations at the summit and take actionable recommendations they can deliver gender-responsive programs in Government.
It would help stakeholders explore transformative ways to achieve gender equality and inclusion in Nigeria
As we know, there is still much to be done, and much responsibility lies upon us to create the inclusive society we all seek.
Fostering gender equality will require continuous collaboration between governments, private and public sectors, civil society organisations, and communities.
Also, recognizing and addressing the intersecting forms of discrimination and working towards creating a society where all individuals can enjoy equal rights, opportunities, and freedoms, regardless of their gender, he said.
Jaiyeola, while unveiling the 2023 theme of its next Gender and Inclusion Summit (GS-23) said it will enable stakeholders within Nigeria and Africa to gather, discuss and deliberate on important steps to take to facilitate gender-inclusive society.
Dr. Osasuyi Dirisu, Executive Director of the PIC, highlighted the need for gender and Inclusion summit, which serves as a platform to amplify stakeholders voices about Gender Equality and Inclusion.
Dirisu added that the Purple Book provides an opportunity for us all to move From Voices to Action by reflecting on approaches to improve the Gender Equality profile of Nigeria.
We translates voices to action by developing the purple book. It contains learnings from the summit as well as recommendations for policies, programs to improve.
We want to create an opportunity to start the conversation for people to take action and make those changes that will make difference in equity, social justice and inclusion in Nigeria, she said.
Mrs Maryam Uwais, Special Assistant to the President on Social Investments, noted the gender inequality, adding that the book would serve as reference material in addressing gender disparity and inclusion.
Theres a huge disparity in terms of gender balance, and its very important not just for females, but for the country to have this inclusion, because it is better everywhere.
The statistics show that when you have voices at the table, diverse voices, diverse perspectives, governance is better, she said.
Similarly, Dr Ejike Oji, Chairman, Technical Management Committee, Association for the Advancement of Family Planning (AAFP), urged stakeholders to increase advocacies on GBV and maternal health.
CSOs and NGOs should know that when you talk about maternal health
is a broad range of issues, from cancer to gender based violence, to maternal health, to sexual violence so we need to increase our space of work.
And then were looking forward to the next meetings or the next nursing summits on gender inclusiveness, he said.
Other highlights of the events were the unveiling of the GS-23 theme and panel discussion on Womens health and the SDGs: Exploring Intersecting Priorities for 2030 and beyond. (NAN) www.nannews.ng
==============
Edited by Josephine Obute/Isaac Aregbesola
Source: NAN News