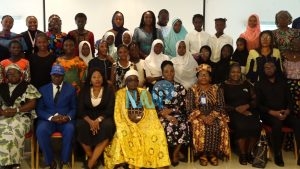 By Justina Auta
A report on the safety of girls and women shows that 95 per cent of Gender-Based Violence (GBV) cases in the Federal Capital Territory (FCT), Niger and Nasarawa state communities are perpetrated by men and boys.
Ms Comfort Bello, the Monitoring and Evaluation Officer of Talitha Cumi Foundation (TCF), made the assertion at the Flash Light Actions on Girls Safety (FLAGS) project midline dissemination meeting held in Abuja.
Bello said that the three-year FLAGS project is being funded by the UN Trust Fund and implemented by TCF to end GBV and support 750 marginalised schoolgirls between 10-19 years.
She explained that poverty, culture, lack of skills and parental care and neglect are some of the causes of GBV.
She added that on the midline assessment conducted in our FLAGS communities, the major cause of GBV as identified by the respondents is poverty.
About 71 per cent cases of GBV are due to poverty and 75 per cent of major perpetrators are men, 20 per cent are boys.
Therefore, basically 95 per cent are men and boys who are the major perpetrators of GBV in the country.
Bello explained that the survey also showed that most of the perpetrators of GBV were family members such as brothers, fathers and uncles.
We believe that if they are continually sensitised in the community, they will be able to protect the girls and GBV will reduce to minimal.
We also encourage skill acquisition training for girls to keep them busy and be empowered, as the respondents requested for more police stations in their communities, she said.
She also stressed the need for the establishment of police stations and swift judicial process to ensure arrest, investigation and prosecution of perpetrators to serve as deterrent to others.
Ms Tayo Erinle, the Executive Director, TCF, stressed the need for the establishment of shelter for the safety of GBV survivors.
She said it was important to empower women and girls with skills to enable them have psycho-social support.
Erinle decried the inadequate shelter to carter for the GBV survivors, especially for girls above 18 years, urging stakeholders to provide more for the safety of girls and women.
We need shelter, places where we can keep the survivors safe and rehabilitate them, while justice is taking its cause and government
can support in this regard.
If we are unable to take survivors out of where they are being abused, it will continue because of their level of vulnerability.
So, shelters are very important and as it is now, shelter is inadequate; we dont have enough, especially for people above 18 years.
People who have access to the fund and facilities should provide shelter, that is a great way to support the war against GBV.
She also revealed that slow judicial process stalled justice for GBV cases, increased the act and further affected the mental health of survivors.
The will of justice is very slow and can be very frustrating for the survivors and us.
This is because sometimes when you pass through the stages of gathering required evidence, getting the support from the health
and community level, FIDA, Police and ends up in the court and it is taking forever.
According to her, the issue has to be looked into so as not to make it appear as if nothing is being done.
She said that when people suffer GBV, the harm could be soothed or some comfort could come when they see justice, but not while these cases are ongoing.
Mrs Gloria Ekanem of Women Development Department, Federal Ministry of Women Affairs, said every opportunity to talk about girls
safety was an opportunity to discuss the future of young Nigerian women.
Ekanem expressed regret that the issue of rape was still rampart, and urged girls to know how to protect yourselves and be armed
with the right education from the right people so that you will not be misled.
Also, Mrs Funmi Kolawole, the Gender Desk Officer, Nigeria Police said most of the cases reported are from villages,
communities and most of the perpetrators are relations that are supposed to take care of the survivors.
The number of people reporting GBV cases are more than how it used to be and the culture of silence has been broken
and we have a lot of reports now, Kolawole said.
Miss miracle, 12 year-old school dropout, said the FLAGS project exposed her to GBV preventive measures, how to seek
help, improve her self-esteem and menstrual health hygiene management. (NAN)(www.nannews.ng)
Edited by Thompson Yamput/Hadiza Mohammed-Aliyu
Source: NAN News