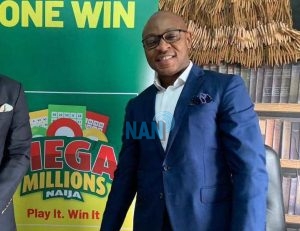 Mr Okwy Okeke Managing Director International Gaming and Entertainment limited (IGE) promoters of Mega Millions Naija.
By Kingsley Okoye
International Gaming and Entertainment Limited (IGE), promoters of Mega Millions Naija, says it is deploying more technology and meticulous record keeping to protect winners claims.
The Managing Director of IGR, Mr Okwy Okeke, said this in a statement on Thursday in Abuja.
News Agency of Nigeria (NAN) reports that IGE is licensed by the National Lottery Regulatory Commission to operate a national lottery promotional scheme, Mega Millions Naija.
According to Okeke, the deployment of more technologies are additional measures to safe-guard wins in case players lose their tickets.
Our commitment to deploying technology to protect players from losing their winnings to store clerks, agents, or other forms of theft is second to none.
We are doing more to sustain the security of our platform, If players in Nigeria lose their physical ticket, they can rely on the platforms secure record-keeping system, which retains a digital copy of all tickets purchased.
Okeke said the technology had inbuilt features of eliminating the possibility of losing out on winnings due to misplaced or stolen tickets.
He said in the event of loosing tickets, players could readily access their records and pursue their claims accordingly.
This is complemented by electronic transmission of each tickets numbers to the email account or phone number of each player.
For this reason, the company verifies all email accounts and phone numbers for the purposes of protecting customers winnings by employing these proactive measures.
He assured subscribers that their participation in the lottery was not only convenient but also safeguarded against potentially fraudulent activities.
Okeke said that mega millions naija was committed to transparency and security, hence created a trustworthy environment for lottery enthusiasts to enjoy their gaming experience while having the assurance that their claims were protected.
The measures follow an incident where a 23-year-old liquour store clerk, Carly Nunes, was indicted on charges related to an alleged scheme to steal a million winning Mega Millions ticket in Lakeville, Massachusetts, USA.
At Savas Liquours, where Nunes served as a checkout counter clerk, a customer dropped his purchased lottery tickets, including the winning Mega Millions ticket, while leaving the store with his bag of chips.
Nunes, with a co-worker, tried to cash the ticket, he said.
To avoid such incidents in Nigeria, Okeke said mega millions naija lotteries, set up a platform where all players could secure their tickets via digital means.
He said the lottery prioritised player convenience, protection and also gave Nigerians the opportunity to access over 20 international lotteries across the world, such as the US Powerball, Eurojackpot, US MegaMIllions, EuroMillions, SuperEnalotto, and UK Lotto. (NAN)(www.nannews.ng)
============
Edited by Idris Abdulrahman
Source: NAN News