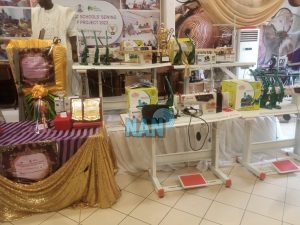 By Ibironke Ariyo
The Ladi Memorial Foundation (LMF) has trained and empowered students and youths in the Federal Capital Territory (FCT)with sewing equipment as starter packs.
The Foundation donated 40 industrial sewing machines and other sewing equipment to schools in the FCT.
During the event on Wednesday, the Executive Director, LMF, Mrs Rosemary Osikoya, said the idea of the programme was engaging stakeholders support for technical vocational education.
These, she said, were through the Incentivised Pilot School sewing championship Project 2023 (SSCP23).
According to him, the idea is to incentivise stakeholders across different sectors because education seemed to have been by-organised into different sectors and the industry is far from the school.
She said so we thought we could bring everybody together on the same page and as you could see here today, we did it, we got support from everybody.
What have we done today? We have equiped three schools with minimum sewing equipment that they need. We have also equiped five individuals from what you could see.
If you put all of that together, you have about 10 individuals so all together we have produced about 40 sewing equipment that is going to different schools and I think it is a good thing to be sustained.
The process is competitive but you could see everyone has to put in their best but for that best dress to come out soon after four hours, it shows the person has taste and competence and we are grateful for that, he said.
Like I said, about 15 individuals benefited but when you look at the fact that some schools, like the three schools that received the equipment, have over 1000 students each, it tells you that we have actually reached in real verifiable terms, more individual than 2000.
And it means that for these particular three schools and for these individual, the rippling effect is large, he said.
Osikoya however, said that the National Senior Secondary Education Commission had promised to give support for the project to become a national competition in 2024.
She said: we want to encourage that every other persons support them. FCT have also promised they will continue with this. That is promising.
Also at the function, the FCT Secretary for Education, Alhaji Sani El-Katuzu, commended the foundation for the initiative.
El-Katuzu assured the continuous support of the FCT minister, adding that the empowerment programme was a way of also curtailing idleness among youths.
He, however, urged youths to use the opportunity that had been given and ensure they participated in all tasks.
One of the beneficiaries, Susan Audu, appreciated the organisers for creating the empowerment programme, adding that she would use the equipment given and ensure she excelled in all.
The News Agency of Nigeria (NAN) reports that UNESCO, Ministry of Education among others, supported the event.
Awards and equipment were given to winners and other beneficiaries. (NAN) (www.nannews.ng)
Edited by Idris Abdulrahman
Source: NAN News